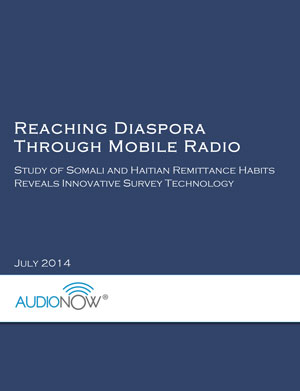 Reaching Diaspora Through Mobile Radio
Study of Somali and Haitian Remittance Habits Reveals
Innovative Survey Technology
In July 2014 AudioNow® released this major report, presenting the results of both a deep-dive study of AudioNow's entire end-user base, and a case study of AudioNow's proprietary polling and survey system. Somali and Haitian audiences were asked a battery of questions about demography and remittance habits, achieving surprisingly strong response rates for these hard-to-reach communities.
At the time of the study AudioNow® reached into 84 distinct ethnic groups, with particularly significant reach into certain U.S. ethnic markets including 69% of the Somali diaspora; 20% of the Haitian diaspora.
Received response rate of 17.1% for Haitian end-users on traditionally sensitive survey questions, and 24% for Somali end-users responding to questions about demographics.
The U.S. based AudioNow® Haitian community is estimated to send $137-$237 million home each year, while AudioNow Somali end-users in the U.S. are estimated to send $52 – $104 million a year.
This survey has the unique advantage of measuring data directly from a remittance sender, where as the vast majority of remittance data available is generated from the recipient.
Climate Change Flash Poll: Diaspora Audience Weigh In
In September 2014, as world leaders, business executives and environmentalists gathered for a global conversation on climate change at the United Nations, AudioNow® surveyed key diaspora groups across the U.S. on their views. Radio listeners were asked:
"Next week, global leaders from nearly every country will meet at the United Nations in New York to discuss climate change. We have an opportunity to make your voice heard on this issue. We'd like to know….How do you feel about climate change?"
"Press *1 if you believe climate change is a major threat.
Press *2 if you believe climate change is a minor threat.
Press *3 if you believe climate change is no real threat.
Press *4 if you're not sure."
Call the following AudioNow® access numbers to listen to the poll in-language:
New Survey Feature Brings Broadcasters Closer to their Audiences: Issues of Top Concern to Immigrant Communities
In April 2013, working with Hart Research, AudioNow® released a multilingual survey that gauged issues of top concern among ethnic communities, including gun control. Five AudioNow broadcasters particpated – Radio America 1540 AM; La Que Buena 1640 AM (in Spanish); Radio Kiskeya (in Creole); Punjabi Radio USA (Punjabi); and Radio Chardi Kala — offering a unique window into the opinions of in-language audiences, with callers participating from across the U.S.